Easy Chip and Dust Collection for DeWalt 735 (DW735) Planer
Updated: Sep 13
How much fine sawdust is your dust collection setup allowing to enter your lungs? A HEPA grade filter prevents dust particles down to .3 microns from entering the air.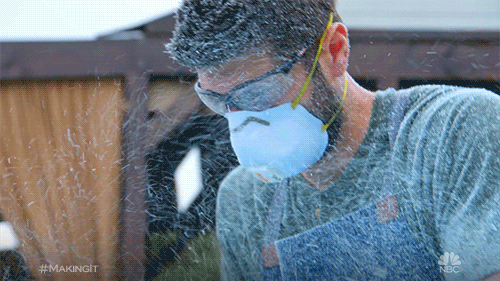 Keeping the air clean in your woodworking shop is a challenge but an absolute necessity for your health. If you are a DIY hobbyist, chances are you don't have an expensive, dedicated dust collection system. Most of us get started with by connecting a shop vacuum to the tool with a hose. While this is enough to get by starting out, a few issues pop up rather quickly:
Clogged filters - chokes your vacuum, reduces suction power and strains the motor

Vacuum fills up fast - constantly needing to empty dust and chips from the vacuum

Harmful particulate - microscopic particles emitted into your shop and into your lungs
An easy, DIY dust collection for your DW735 planer can alleviate these problems. This setup can be completely assembled in less than 20 minutes.
This set up is specific to the DeWalt 735 thickness planer due to its built-in chip ejection, but with a small modification, it can work for other wood cutting tools in your shop.
Affiliate links to the products used are included throughout to assist you in building your own DIY dust collection setup. As an Amazon Associate I earn from qualifying purchases. Making purchases through these links doesn't cost you anything additional!
Cyclone separation with HEPA filter
The DeWalt 735 Planer
DeWalt 735 Planer (Amazon)
This planer is one of the most common small-shop thickness planers. One of its main benefits is the internal chip blower. This evacuates wood chips without the need of a vacuum or expensive dust collector. All you need is a simple collection system that is easy to set up, takes up minimal space and keeps your shop air safe to breath.
Dull blades? Get your replacements here. (Amazon)
Upgraded helical blades (Amazon) produce a smoother finish and drastically reduce the noise.
What's the difference between the DW735 and DW734? What about the DW735X?
The supplies you will need:
For little more than 100 bucks, you can get all the materials you need.
Chip Collection for DeWalt Planer
Many use trashcans, but have difficulty with keeping the lid from getting blown off under the pressure. You want to maintain an airtight seal to keep harmful dust particles contained while, at the same time, allowing the system to breath. Consider how often you create dust and your shop space to determine how big of a container to use.
There are two good small size options and a more expensive extra large option:
14 gallon plastic drum (Amazon)

30-gallon plastic drum (Amazon)

Extra Large 55-gallon drum (Amazon)
I use the 14-gallon drum, but wish I would have upgraded to the 30-gallon. The prices keep fluctuating on these, but the 30-gallon is hovering at about $20 more than the 14-gallon, but worth it for the additional capacity and slight increase to the footprint.
TIMber things Easy Dust Collection Kit
Cyclone Dust Collector Separator
Dust Deputy from Amazon (Amazon)
Cyclone separators are an absolute necessity in your dust collection setup. The cyclone inlet (port sticking out of the side) sends woodchips in a spiral path downward along the inside walls of the cyclone. The heavier woodchip material spirals down until it falls into a container below. The outlet tube (port sticking out of the top) protrudes down into the cyclone allowing air to vent up through the center of the cyclone and out the top.
This prevents your air filter from getting clogged. Since the wood chippings fall into the bin, the air that vents out is mostly clean. Only debris smaller than what can be seen with the human eye escapes to your filter.
I recommend the solo Dust Deputy (Amazon), but Oneida offers a couple additional solutions for those looking for a smaller all-in-one package:
Small Space Option
If you're pressed for space and are not concerned about having to empty a smaller container, the Cyclone Kit from Oneida (Amazon) includes a cyclone, short hose, two 5-gallon buckets and casters.
With this kit, you won't need to buy separate collection or hose.
This is a good option if you are looking for dust collection with an even smaller footprint.
This is set up for connecting a shop vacuum, so if you're using this dust collection for the DW735 planer, you'll need items 2-4 to attach a quality filter:
Small Shop Dust Collection Kits
If you are looking for an easy alternative to building your own system, these kits come with everything you need and maintain a small footprint to conserve space in your shop.
Oneida Molded Deluxe Dust Deputy Kit
Oneida has caught on to the demand for a product many of us DIYers are building and now sell their own kit. Though, it is pricier than building your own, it comes with a 10-gallon steel drum on casters.
This may be a good option for those who want an all-in-one package.
It is set up for connecting a shop vacuum, so if you're using this dust collection for the DW735 planer, you'll need the filter setup explained below:


M5 Dust Cyclone Collection by Mullet Tools
My only gripe with the dust deputy cyclone is that it is mounted to a separate collection bin. That bin has to be drug around the shop from tool to tool with your shop vacuum swinging around behind it catching on tools and knocking into everything along the way.
Mullet Tools has solved the problem with their all-enclosed cyclone collection with rigid connection to nearly any shop vacuum made called the Mullet Tools M5 Dust Cyclone Collection.
There are no seams, gaskets or gaps between the cyclone and the collection bin which ensures no suction loss in these areas.
Dust Collector Filter: High Efficiency vs HEPA
This is where the setup deviates if you are not hooking this up to a tool with its own chip ejection built in. For those tools, you simply hook up a vacuum hose to the top of your cyclone, but you still need a quality filter installed inside the vacuum to ensure you aren't breathing in harmful particulate ejected from the exhaust port. The bigger the filter, the more airflow and less strain on your system. Full-size shop vacuum filters work great, but at minimum, you want a High Efficiency filter.
High Efficiency Dust Filter: Good
RIDGID 3-layer (Amazon) filter will protect you against most shop debris such as wood, drywall and general dust down to 1 micron in size. This is the minimum level protection you want in a shop filter.
HEPA Dust Filter: Best
HEPA takes it one step further to filter dust as small as 0.3 microns. This will block mold spores, dust mites and other allergens. Not a name brand, but is what I use. They can find them at Amazon often for less than the High Efficiency by RIDGID.
How to Connect a Filter to a Cyclone Separator


Connecting your Dust Deputy cyclone separator to a full-size filter is easy with two reducing couplings:
4"x 3" PVC Sewer and Drain Coupling (Amazon)

3"x 2" Rubber Reducing Coupling (Amazon)
Be sure it is not a regular Drain/Waste/Vent (DWV) coupling - these have a thicker diameter and will not fit.
The rubber reducing coupling secures to the outlet port of the dust deputy with the PVC reducing coupling on the top side. The filter friction fits to the top of the PVC coupling.
DeWalt Planer DW735 Dust Port
The dust port of the DW735 planer can accommodate two hose sizes. It measures 3-15/16" to fit a 4"dust hose. The true port size is 2-7/16" which will stretch fit a 2-1/2" hose.
Dust Collection Hose
The DW735 dust port will accommodate a 4" hose, but ejects chips through a 2-7/16" port. I use a 4" hose to reduce the possibility of the hose getting clogged up, but requires installing an adapter (below) to reduce down to the inlet port of the cyclone.
2-1/2" hose will work for most and eliminates the need for the adapter.
Adapter - only needed if using 4" hose
4" x 2-1/4" Adapter (Amazon) to connect your filter to the dust cyclone output port.
The outside diameter of the large end will friction fit nicely to the full-sized filters. This isn't necessary if you are connecting the cyclone output port to a vacuum.
I was worried the pressure would blow the filter off, but have had no issues so far. Should it happen, a couple rounds of tape on the 4" side of the coupling will improve the friction fit.
From start to finish, you need
Hose

2 inch (Amazon)- Smaller diameter, but does not require an adapter to cyclone separator

4 inch (Amazon) - Low clog chance, but requires an adapter to cyclone separator

4"x 2-1/4" Adapter (Amazon)

Cyclone Separator

Dust Deputy (Amazon)

Dust Deputy (full kit) (Amazon)- includes collection bucket and 2.5" hose

Dustopper from Home Depot

Collection

14-gallon drum (Amazon)

30-gallon drum (Amazon)

Fittings

4"x 3" PVC Coupling (Amazon)

3"x 2" Rubber Coupling (Fernco) (Amazon)

Full-size Filter

High Efficiency (Amazon)
Cyclone Dust Collection Kit for DeWalt Planer
Starting from scratch? Select one of the full kits below to order everything you need.
Click the text bar at bottom of each kit to view full kit. The kit links navigate you to an external site that packages everything you need to order this setup from Amazon. You do not pay extra for using these or any links on this page.
1. 30-Gallon / 4" Hose Kit (Amazon) - includes all you need to set up with the 30-gallon drum with 4 inch hose.
2. 30-Gallon / 2-1/2" Hose Kit (Amazon) - includes all you need to set up the 30-gallon drum with 2-1/2" hose.
Now you're all set and ready to mill your wood with peace of mind knowing you are protecting your lungs without much hassle! We'd love to hear if you use this setup or how you've done dust collection differently in the comments below.